BREATHE program pilot supports seniors' well-being in acute care
Learnings from continuing care are improving quality of life for patients aat St. Joseph's General Hospital in Vegreville
April 12, 2023
By Karen Diaper, Communications Manager, Covenant Health
June Woloshniuk, 78, a patient at St. Joseph's General Hospital in Vegreville, enjoys participating in the many activities the hospital offers through a new pilot program called BREATHE.
"I enjoy being part of the BREATHE program," says June. "I look forward to getting together with everyone."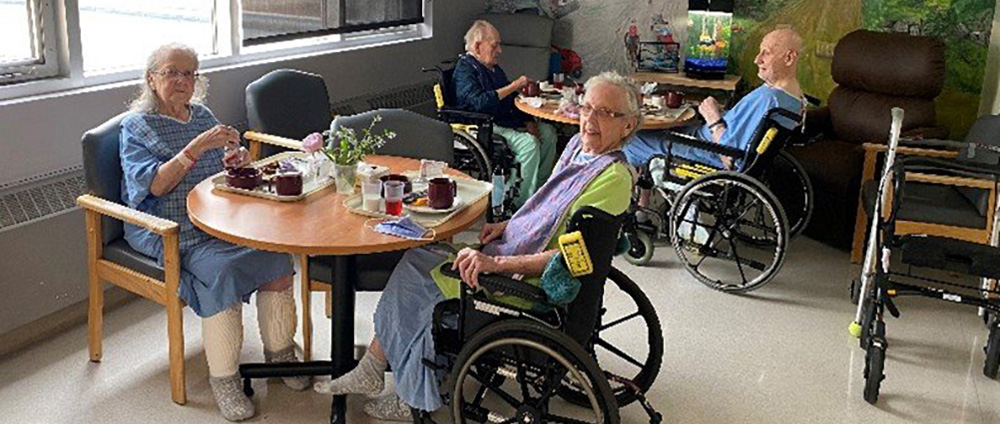 BREATHE stands for Building Resilience in Elders Through a Therapeutic Hospital Environment. Launched in July 2021 through a $128,000 funding commitment from the Covenant Foundation, the program focuses on improving quality of life for seniors who are patients in the hospital because of a sudden serious illness, complex medical problems and/or risk of losing their ability to function independently. Drawing from therapeutic models used in continuing care, its goal is to help patients retain their independence, increase their communication skills and strengthen their fine and gross motor skills, as well as their cognitive functioning and physical endurance.  
Taylor Ziegler, a therapy assistant at St. Joseph's, is leading the day-to-day running of the program. She is excited to see learnings from continuing care being used with seniors in the hospital.  
"When I saw this position posted, I knew it was the right job for me," says Taylor. "This work is integral to continuing care, but I hadn't seen it in the acute care setting before."
Every day, Taylor meets with the charge nurse to see which patients might benefit from the program. Staff then connect with the patients to assess whether they would be interested and able to participate in any of the activities. From there, Taylor connects with the patients to discuss the options, many of which align with the physiotherapy program at the hospital, where she also supports patients. 
BREATHE offers cognitive enhancement activities, such as memory and reminiscing games, puzzles, word searches and bingo, says Taylor. Bingo is a huge hit, especially for patients who have been in continuing care, where it is an activity they are used to enjoying.
June can vouch for the popularity of the games and the opportunities they bring to interact with other patients. "I really enjoy playing bingo with the other patients," she says. "I have met a lot of new people during my time at St. Joseph's."
Other activities offered include music therapy, visits from a hairdresser and breakfast and lunch club, where patients have a meal together. Often, meals are arranged with the physiotherapy team, and going to breakfast or lunch is incorporated into the walking program.
Patients and their families are thrilled to have a hairdresser volunteer with the program, says Taylor. When patients are challenged by mobility or other issues, taking them to appointments can be difficult. Having a hairdresser on-site means one less thing for families to worry about.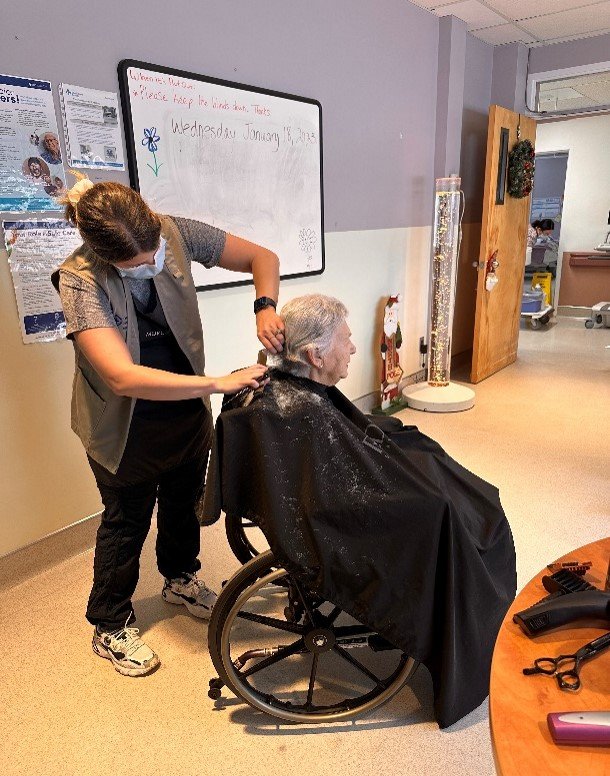 While the program is still in its pilot phase, St. Joseph's staff and physicians are already seeing positive impacts on patients. 
"Patients look forward to the activities, and the social interactions they have with fellow patients during the activities have positively impacted their mood and fostered friendships," says Sydney Giebelhaus, registered nurse. "They look forward to joining their fellow patients for supper even after Taylor has finished her shift!"
Staff report that the program supports patient health and well-being in other ways as well. "We have patients who are stable, and the BREATHE program works with staff to get the patients up, ready for the day," says Lindsay Ripien, site administrator for the hospital. "This helps prevent muscle deterioration, aligns with End PJ Paralysis and maintains physical strength and mental health. The program also provides recreational therapy support for patients."
Staff and physicians are seeing particular benefits for patients awaiting placement in continuing care centres since their stay in hospital can be lengthy. "I had one patient who was awaiting placement," says Dr. Helen Frank-Hollins, family physician. "She was anxious about everything that comes to mind. The BREATHE program offered her social interaction and distraction and started to improve her anxiety. It should be standard in all hospitals where you have people awaiting placement for months and months."
Given the success of the pilot, staff hope to continue the program in the future and to encourage other Covenant Health sites to implement it. 
That's good news for patients like June. "My time at the hospital would have been so boring without having the activities and being able to interact with other patients," she says.