Mary Immaculate Care Centre
165018 Township Rd 534 Mundare T0B 3H0
Mary Immaculate Care Centre is a continuing care community. We provide compassionate long-term care designed to suit your needs as well as a mental health adult day program.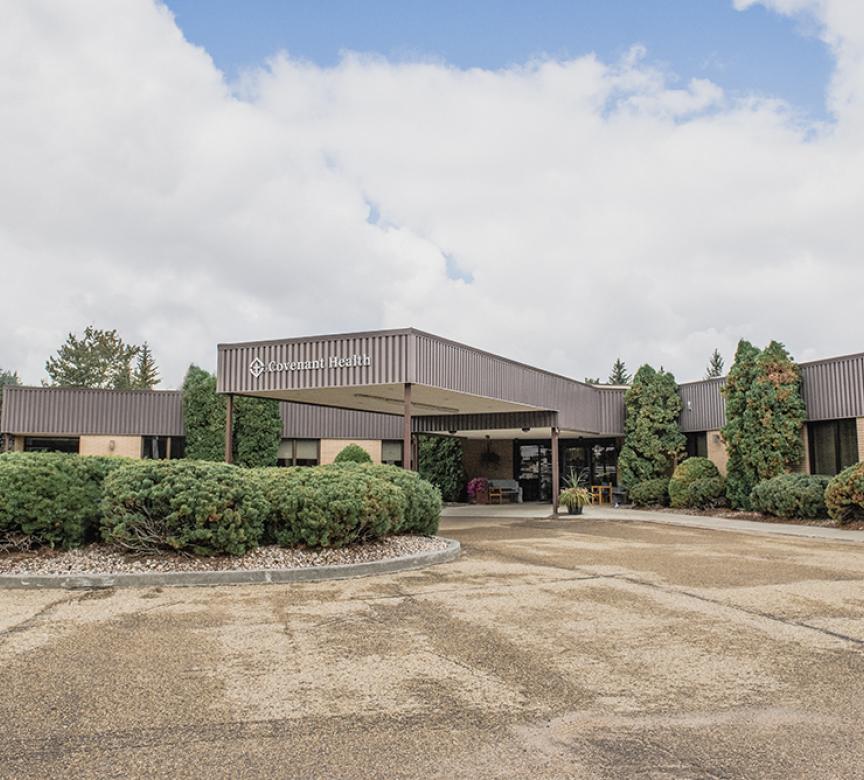 Interpretive services

We offer interpretive services for residents and families who prefer to communicate in a language other than English. You may request services in person, through live video or over the phone.

To arrange for an interpreter, speak to a member of your care team.
Long-term care

We offer quality, compassionate care to 30 residents in both private and semiprivate rooms.

Admissions

Long-term care is available once you have been assessed by a case manager. You can choose to be placed with us, but you may have to wait for an opening.

Contact

Phone: 780.764.3730
Nutrition counselling

We provide nutrition services to help you stay healthy, prevent and manage diseases and recover from illness or surgery.

Contact

Phone: 780.764.3730
Occupational therapy

Our team offers services that promote our residents' independence. We assess your needs for equipment such as wheelchairs and walkers. And we help you keep mobile and carry out daily activities.

To arrange a consultation, speak to your charge nurse.

Contact

Phone: 780.764.3730
Palliative care

We offer holistic palliative care tailored to your wishes and needs. Learn more about palliative care.

Services

medical care
spiritual care
education and resources
support for your family

Visiting

Your family and pets are welcome to visit anytime.

Referrals

Your healthcare provider can contact us to have you admitted.

Contact

Phone: 780.764.3730
Physical therapy

We offer therapy to residents with physical issues related to an injury, disability or other health condition. We aim to promote your independence and quality of life.

Contact

Phone: 780.764.3730
Recreation therapy

We offer recreation and leisure services to enhance the health and well-being of our residents. We support choice and help you follow your interests.

Contact

Phone: 780.764.3730
Spiritual care

Our team offers spiritual care services to our residents and families, regardless of faith, background or tradition. We honour each person's wishes and unique journey.
Amenities for residents
Meals
We serve full, nutritious meals three times a day in our dining rooms.
Laundry
Laundry service is available for a fee.
Hair salon
Our on-site hairdresser is available by appointment.
Spiritual care
Spiritual care is available from our part-time chaplain as well as pastors from local parishes. Various denominations also hold services in our chapel.
Special services
A foot care nurse visits regularly to provide foot care.
Resident and Family Council
Our Resident and Family Council meets monthly, and all residents and families are invited. The meetings are held in person and virtually. One of the council initiatives was to have staff wear name tags to help residents remember them when they are wearing masks.
Latest news
Occupational therapist Sheren Cherri used a virtual assessment to fit a resident at Mary Immaculate Care Centre for a new wheelchair.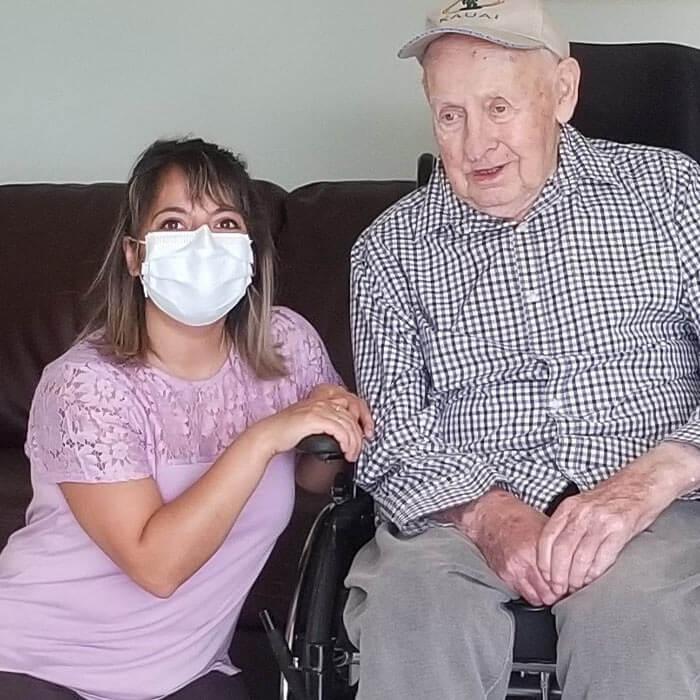 Mary Immaculate Care Centre is a living legacy of four Sisters who moved to Mundare to support early Ukrainian settlers.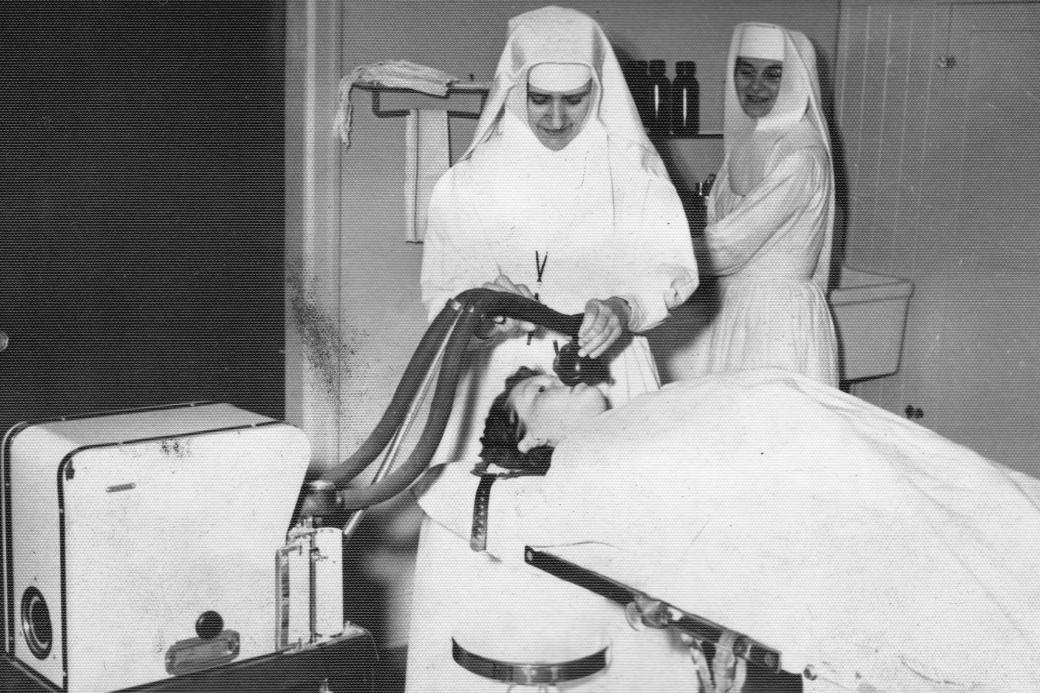 Mary Homenick is 105 years old. She credits her family and friends for helping her to live a long and happy life.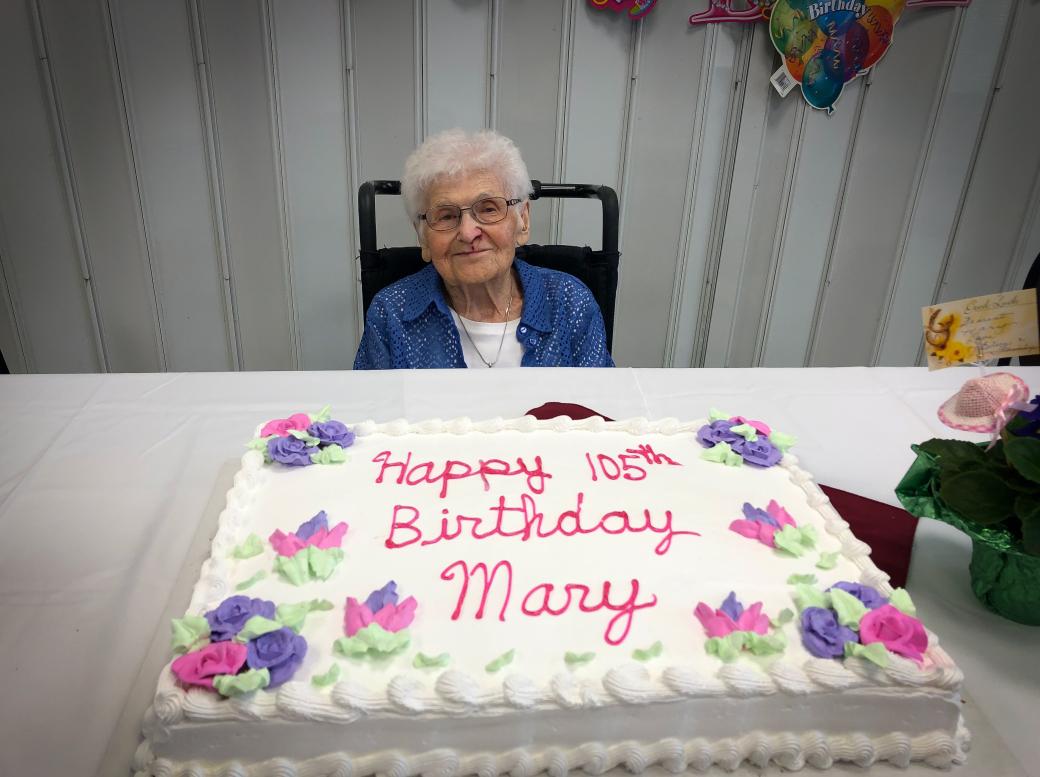 Common areas
Our building is surrounded by greenspace, with courtyards and gardens for you and your visitors to enjoy. We also have a three-season sunroom.
Our units include dining and activity areas. We have a chapel where services are held for various denominations.
Neighbourhood
Mary Immaculate Care Centre is located a short distance from Mundare's main street, shops and restaurants. We have a handibus and handivan you and your family can use for a small fee.
Visitor guidelines
Visiting hours
8 a.m. - 8 p.m.

For the safety of our residents, please postpone your visit if you are not feeling well. 
Stop the spread of germs
For the safety of our patients and residents, we encourage you to clean your hands when you visit. See A Guide to Clean Hands for information on protecting yourself and your loved ones.
If you're sick, wait and visit your loved one when you're feeling better. If you must visit and you're coughing or sneezing, consider wearing a mask to protect your loved one.
Cover your nose and mouth with a tissue when you cough or sneeze, and then discard the tissue. If you don't have a tissue, sneeze or cough into your upper sleeve or elbow.
Clean your hands often with soap and water or hand sanitizer, especially after coughing or sneezing.
Parking
We offer free visitor parking, including accessible parking stalls, on the east side of the building.