St. Joseph's Home
156 3 St NE Medicine Hat T1A 5M1
St. Joseph's Home is a supportive living community. We support your needs for health and personal care and offer compassionate end-of-life care for those in need.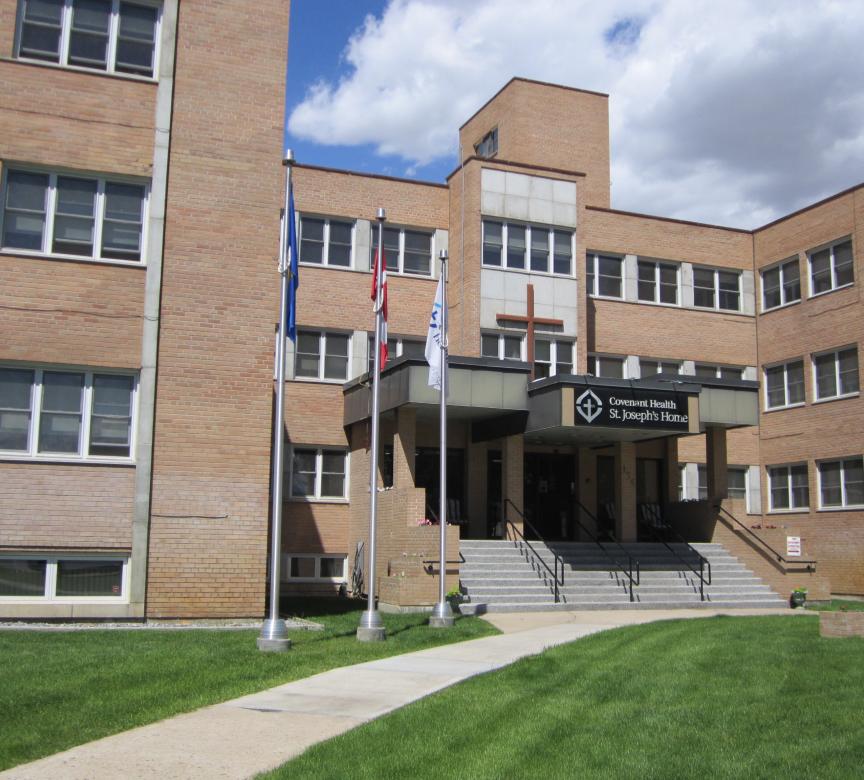 Interpretive services

We offer interpretive services for patients, residents and families who prefer to communicate in a language other than English. You may request services in person, through live video or over the phone.

To arrange for an interpreter, speak to a member of your care team.
Palliative care

St. Joseph's Home provides holistic, comfort-based hospice care for people at end of life and their families. We also lend equipment for patients and families to use in their own homes at no cost.
Respite care

We offer respite care for a maximum of 14 days.

Access

You will need to apply for respite care through a home care case manager with Medicine Hat Home Care. Phone 403.581.5750 to speak to a case manager.

Contact

Phone: 403.526.3818
Special auxiliary beds

We provide convalescent and palliative care for patients who do not need to be in the hospital but need more care than they can get at home. You may stay in the program for up to two months.

Referral

Your healthcare provider may connect you with our services.

Contact

Phone: 403.526.3818
Spiritual care

Our team offers spiritual care services to our patients, residents and families, regardless of faith, background or tradition. We honour each person's wishes and unique journey.

Chaplain services

Our chaplain is on-site to respond to a wide range of needs. They may:

support you with end-of-life concerns, including ceremonies, memorial planning and decision-making
help you explore meaning and purpose in life
support you during grief and loss
explore ethical concerns facing patients, residents and staff
provide religious care (prayer, requests for sacraments or visits from faith leaders)
help you explore your understanding of God or the Divine
arrange a quiet space for you in the chapel

Hours

Please call to confirm our current hours.

Contact

Ask a member of your care team to connect you with our chaplain.

Phone: 403.526.3818
Supportive living level 2

We offer a supportive living (SL2) program for adults in a homelike lodge setting. We have a variety of room sizes for your privacy and comfort. Contact us for a viewing or more information.

Costs

Single room: $1,200/per month
Double room: $1,700/per month (one person)
Double room: $2,200/per month (two people)

Admission

Please contact us to complete an application.

Contact

Phone: 403.526.3818
Amenities for residents
Meals
You are invited to eat in our main floor dining room and have access to various lounges and kitchenettes on each floor. Guests are welcome to use vending machines for snacks or drinks.
Laundry
You have access to two coin-operated laundry rooms or can register for monthly laundry services.
Chapel
We have a chapel that is open 24 hours for quiet reflection and prayer. Everyone is welcome to use it, and service times are posted at the door.
Recreation
We have a main recreation room, a games room (including pool and shuffleboard tables) and a library.
Hair salon
Our hair salon is open one day per week for drop-ins or more for appointments.
Outdoor courtyard
We have an outdoor courtyard, and we are next to Stations of the Cross Park.
Latest news
Christina's passion and dedication for her work haven't gone unnoticed by her peers as they recently nominated her for the Covenant Mission Award for Compassion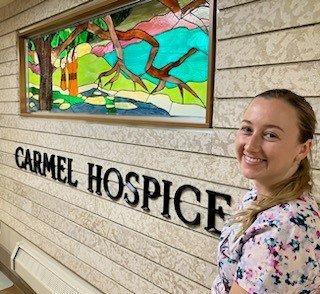 Patients benefit from added comfort found in specialized beds at Covenant Health's Carmel Hospice in Medicine Hat.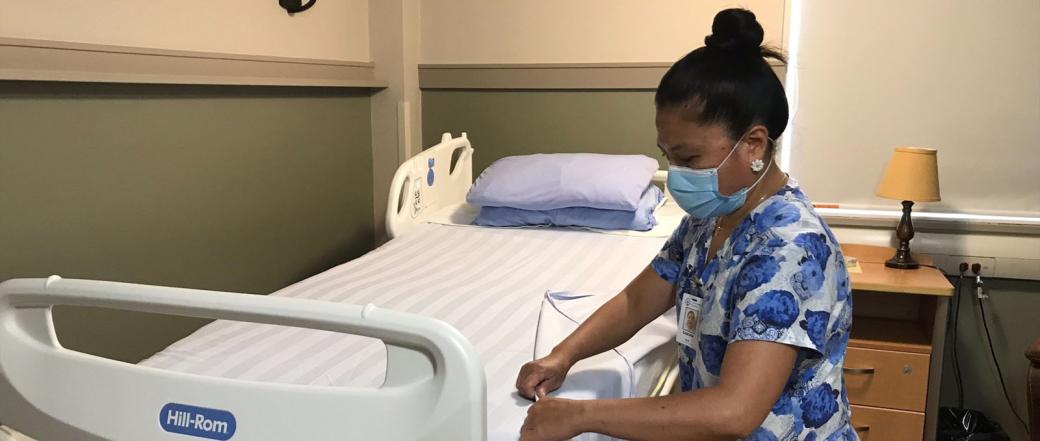 Physicians at Carmel Hospice in St. Joseph's Home in Medicine Hat donate a specialized hospice bed through Covenant Foundation in memory of Larry Plante, a form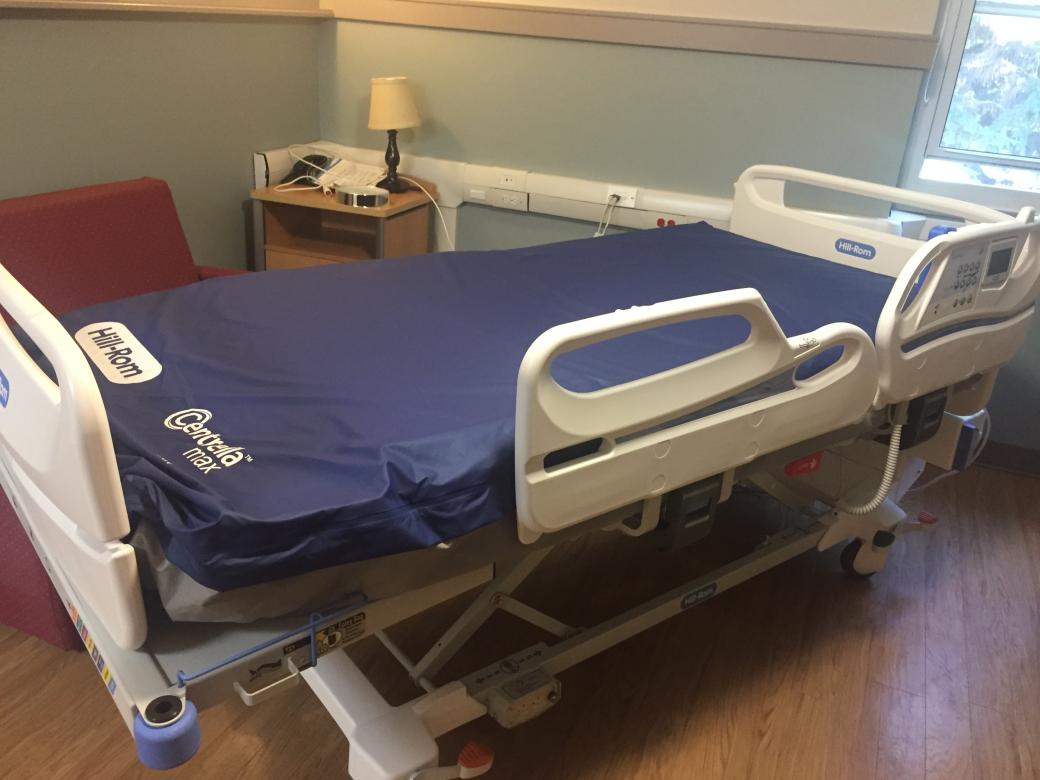 Suites
All suites can be furnished room with a bed, dresser, nightstand, TV, reclining chair and lamp for a small fee.
Single suites
Single suites range in size from 180 to190 sq/ft.
Double suites
Double suites range from 300 to 400 sq/ft.
Parking
Limited parking spots are available for residents.
Visitor guidelines
Visiting hours
8:00 a.m. - 8:00 p.m.
Visitor notes
Family members and visitors are welcome. We believe visits contribute greatly to the comfort and well-being of our patients and residents. At times, we may suggest restrictions on visiting hours to ensure the best patient care.
We ask guests and visitors to sign in and out at the main elevator on the main floor.
The building is locked 24/7, but you can request access by ringing the bell at either the front entrance or ramp entrance at the back of the building.
Children are welcome and should be supervised by an adult.
Stop the spread of germs
For the safety of our patients and residents, we encourage you to clean your hands when you visit. See A Guide to Clean Hands for information on protecting yourself and your loved ones.
If you're sick, wait and visit your loved one when you're feeling better. If you must visit and you're coughing or sneezing, consider wearing a mask to protect your loved one.
Cover your nose and mouth with a tissue when you cough or sneeze, and then discard the tissue. If you don't have a tissue, sneeze or cough into your upper sleeve or elbow.
Clean your hands often with soap and water or hand sanitizer, especially after coughing or sneezing.
Parking
We offer free visitor parking, including accessible parking stalls, in the parking lot behind and around the building, including 3rd Street. Please be aware of restricted areas of parking and designated resident parking spots.