Communication reminder cards for staff help ensure patient and resident safety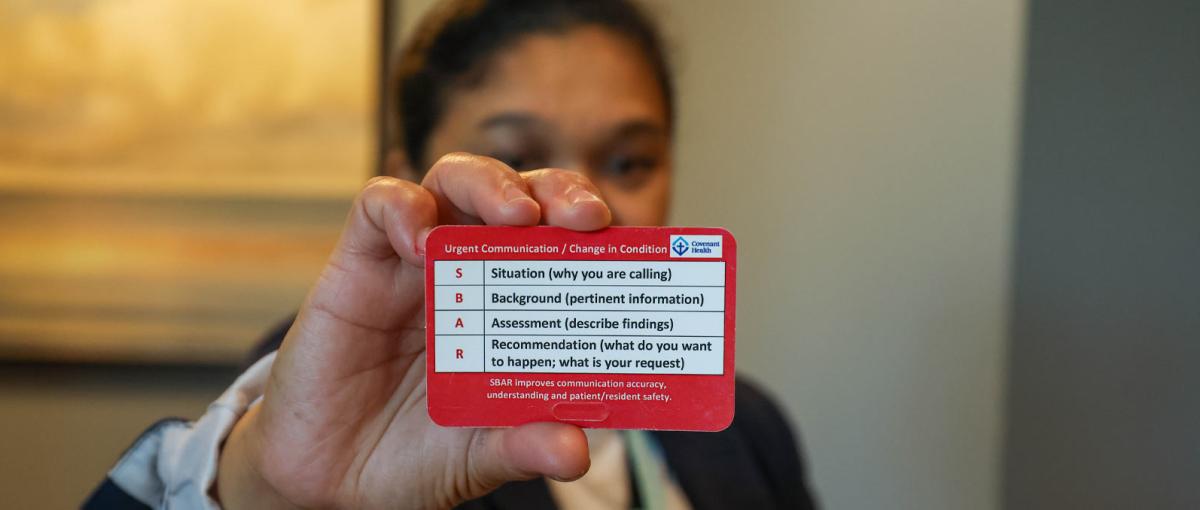 October 24, 2023
By Peter Rybar, Social Media Advisor
When it comes to patient and resident safety, Misty Zisin, clinical nurse specialist at Villa Caritas, a Covenant Health facility in Edmonton, knows that effective communication is crucial. And while this is not news to healthcare staff, simple reminders can go a long way.
"Staff come to work with a lot in their heads and hearts every day, whether they're personal matters or fatigue lasting from the COVID-19 pandemic," says Misty. "A quick reminder helps you to focus and communicate more effectively."
Misty recently partnered with Denise Brown, a clinical quality consultant at Covenant, on a project to distribute lanyard cards to Covenant Health sites with the aim of improving patient and resident safety by ensuring proper communication among staff. The cards feature the SBAR and IDRAW communication frameworks. SBAR is popular in health care for its clear and structured approach, especially when there's a sudden change in a patient's health, and IDRAW focuses on thorough communication when there is a handover in care, making sure patient care is consistent and co-ordinated.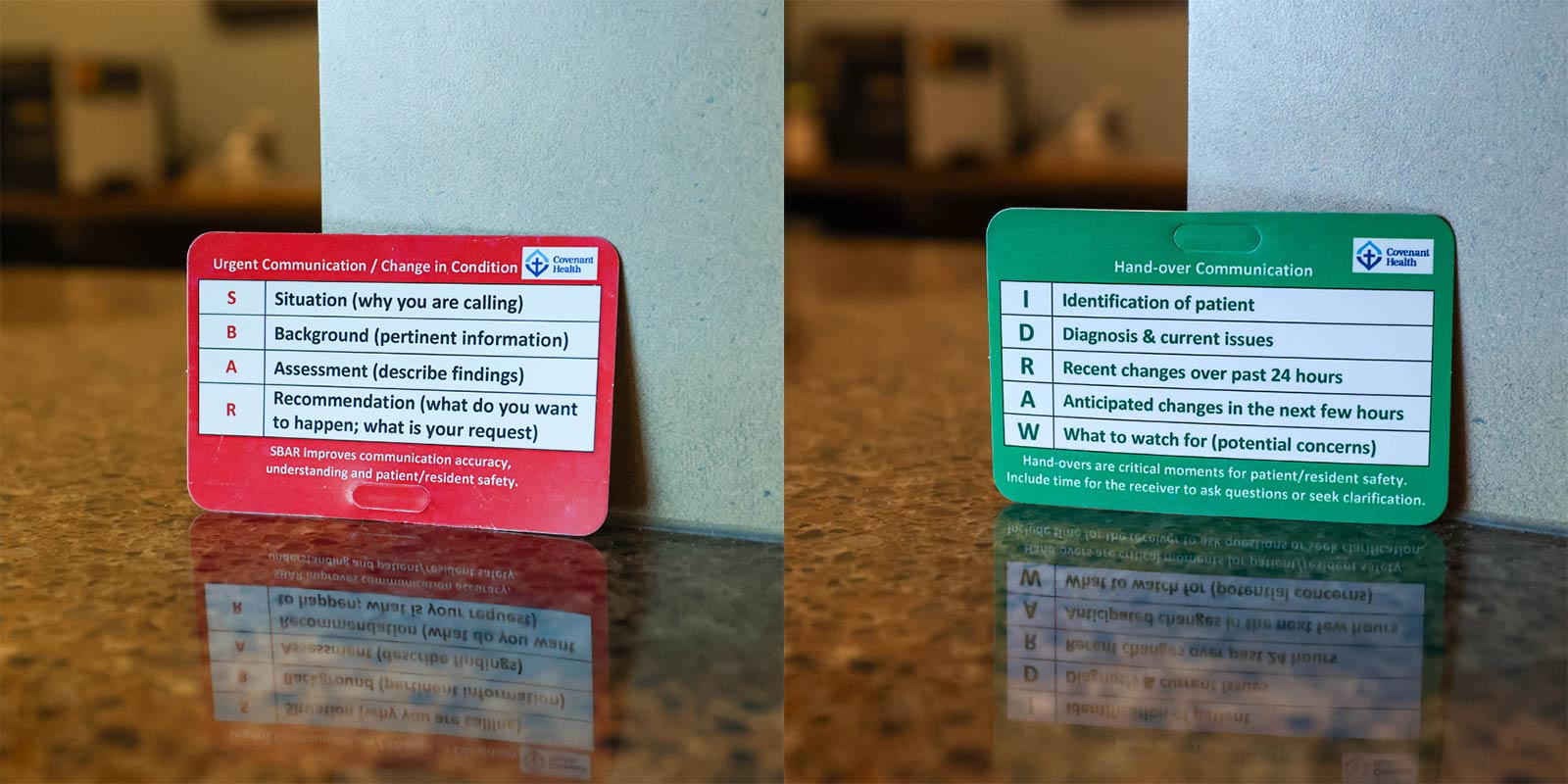 Denise investigated to determine whether there was appetite for the cards at other Covenant Health sites as well.
"When I checked with people across the organization, they all said, 'Yes, please!' They were very enthusiastic about this," she says.
And it wasn't just nursing staff and physicians looking to better use these forms of structured communication but also support teams. "One site's FME (facilities and maintenance) group wanted the cards as well," says Denise.
Once demand was identified, the quality and patient safety team organized the printing and distribution of the cards. Seven thousand cards were printed, and to date, six thousand have been distributed to sites across the province.
SBAR has been proven to correlate with higher patient safety outcomes, making it an important system of care to keep top of mind for staff, says Denise.
"Health care is a high-risk endeavour. It relies on humans, and it's impossible for us to work with 100 per cent perfection day after day. So our systems of care need to be strong, and the more layers of protection that we can reasonably put into place, the safer the patients and residents are."
"When something goes wrong with patient or resident care, poor communication is often a component of that."
For her part, Misty believes reminder cards can help mitigate some of the risks that can arise from miscommunication. "There's a lot of complexity in health care, so having these cards as reminders makes it easier for staff and safer for patients when the correct information is transferred."
Covenant Health staff are always seeking ways to enhance care quality, Misty says. "It's a journey we're all on."
With the cards now created and distributed, Misty and Denise will move to the next step of their project: evaluating the cards' effectiveness. They are collecting feedback to determine how to ensure staff use the SBAR and IDRAW frameworks consistently.
"Patient safety is always evolving," Misty says.