Doctor encourages mask use
Bonnyville physician shares story of sister's COVID-19 death and his own ICU experience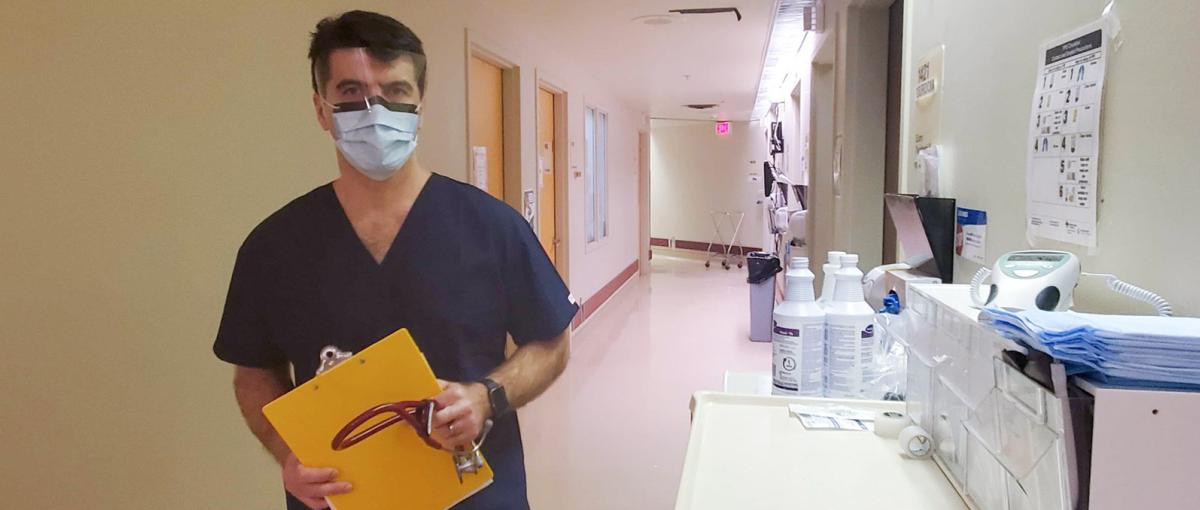 March 8, 2021
By Brenton Driedger, Social Media and Storytelling Advisor, Covenant Health
Dr. Leonard De Freitas still remembers what it was like to lie in an ICU bed and be grateful for each breath.
As a 24-year-old medical student in South Africa, he started feeling unwell one Friday in class and developed a fever. The next day, he started coughing and experienced trouble breathing. He visited emergency and was given antibiotics, but he kept getting worse. On Sunday, he went back to the hospital and was admitted to the intensive care unit (ICU) with severe viral pneumonia.
"Here you have a healthy male with no prior medical conditions ending up in ICU within 48 hours. And that's when you really appreciate every breath you take because every breath you take counts, and it comes with a struggle."
Leonard recovered and finished medical school. In 2000, he moved to Bonnyville, where he works as a family and emergency physician at Bonnyville Health Centre. Throughout the COVID-19 pandemic, which claimed his sister, he has known first-hand that people of all ages are at risk — including the young and healthy — and that there is a critical need to follow public health guidelines, such as wearing a mask.
"It has improved. I see a ton more people now wearing masks and social distancing, but people are still struggling to fit that into their everyday living. And it's a challenge for everyone."
The pandemic and the heavy human toll it has taken spark recurring memories of his near-death experience. After Leonard was admitted to ICU, his condition deteriorated quickly to the point where the doctor recommended calling in his family.
"That was one of the few times in my life that I saw my dad cry," says Leonard. "Here I was so healthy literally two or three days before, and now I have my dad and my mom at the foot of an ICU bed, I have the pastor coming to visit me and I realize this is suddenly a reality for me, that I might die."
The ICU physician told Leonard that he would likely need to be intubated. Leonard prayed, talked it over with his wife and asked the doctor for a few more hours.
"I remember falling asleep late that night expecting not to open my eyes. I woke up at two in the morning with all these monitors and attachments on me, and my first thought that came was 'I'm not dead. I'm still alive. I'm still here.' And from that moment onwards, I got better."
In addition to his physical recovery, Leonard developed post-traumatic stress disorder, for which he needed psychiatric and pastoral support. Now, three decades later and living through a pandemic, Leonard often reflects on his time in ICU. And the more recent experience of losing his sister, Maria, to COVID-19 in August has added to his determination to stay vigilant and encourage others to do the same.
Maria went into hospital with fatigue thought to be caused by her chronic renal failure. When she developed shortness of breath and a cough, a test confirmed she had COVID-19.
Leonard remembers his final phone conversation with his sister.
"Her first words were 'Leonard, I'm still here.' I could hear she was coughing quite extensively over the phone. I could hear that she was short of breath."
Their time was cut short because her phone battery died. She passed away a few hours later.
"There was no formal goodbye. It was just me sharing my love and caring for her and telling her I was praying for her, and she talked to me in a brief few sentences."
Maria was the oldest of Leonard's four siblings and the one with whom he had the closest bond. She dealt with more than her share of health struggles throughout her life — for herself and others. She lost both her first and second husband to cancer, survived breast cancer and experienced chronic renal failure. But she was not one to dwell on the question "Why me?"
"From a very early age in her life, she was basically on the wrong end of the curve with her health. She had a very tough journey, and now she herself was faced with a progressive, worsening illness. But through all of that, she never wavered in her faith, and that's what will stick with me."
Maria's life and Leonard's ICU experience inspire him to encourage others to be diligent in following COVID-19 public health measures.
"Those memories came back for me very quickly during this COVID-19 season," says Leonard. "It conjures up anxiety and a reminder of why we should not underestimate this virus."
Leonard says the good news is that our actions make a difference.
"There is some control that we have. And if I can prevent someone from ending up in ICU by wearing a mask and washing my hands, if one life can be saved, then it is worth wearing that mask."