Meet Kathleen Vasselin
Registered Nurse, St. Mary's Hospital
"St. Mary's is a stroke centre and we see lots of acute cases, but we also have a palliative unit where we make sure people get a peaceful death and take care of their families while we do it. I find a lot of fulfillment in all of those aspects."

While the pandemic has presented unique challenges to healthcare workers, Kathleen says she feels lucky to be part of a cohesive team that extends beyond her nursing colleagues.

"We're multidisciplinary—we come together to give the patient holistic care, and as nurses, we work closely with the hospitalists, who are fantastic. They take the time to teach and explain things, and they do it kindly.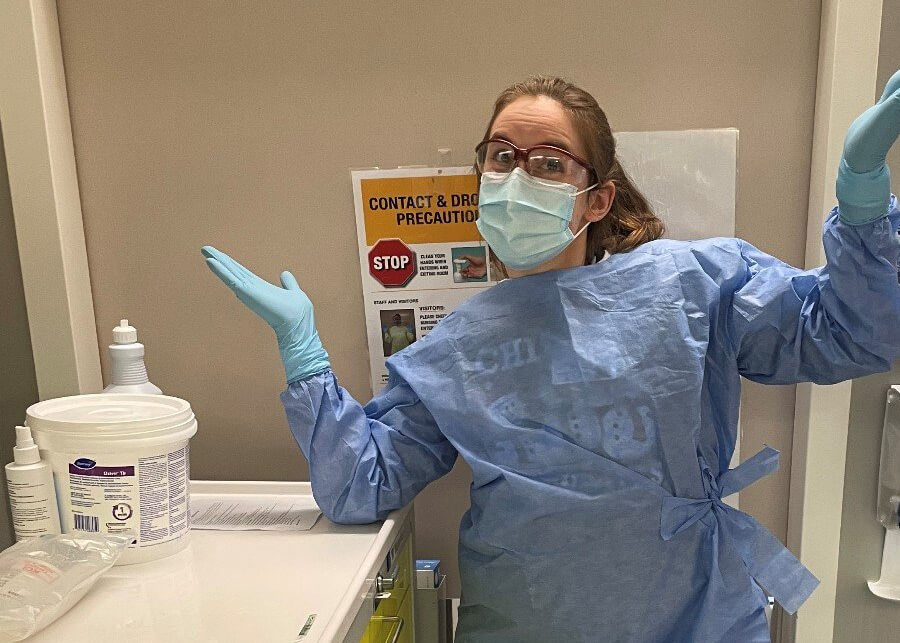 "It's a second family. The sense of community is great, and not just between nurses."
While Kathleen earned her nursing degree in Edmonton, she wanted a wide range of experience during her preceptorship and chose St. Mary's Hospital, where she stayed after completing her degree. The City of Camrose, she says, offers everything she needs.

"Camrose also has a great walking trail system that gets converted into cross-country skiing trails in the winter, and I like the friendly, small-town feel.
"It's very welcoming as a whole," Kathleen says. "When I was in school, the community embraced us and it felt homey. Even if you don't know people well, they give you a smile and a wave when you walk by."
At Covenant Health, you'll find a supportive and fulfilling workplace where you can flourish and find your calling to serve. If you're looking to make a difference, see the opportunities that await you at St. Mary's Hospital.
Are you interested in joining the Covenant Health team?
Covenant Health has diverse teams of employees, physicians, and volunteers that share a deep commitment to serve and share their talents for the greater good.