Meet Christina Bueckert
Registered Nurse, St. Joseph's Home
The field of nursing is full of rewarding experiences that provide individuals with a deep sense of purpose.
For Christina Bueckert, registered nurse at St. Joseph's Home, a Covenant Health centre in Medicine Hat, that purpose is building deep connections with her patients.
"I really appreciate that we have space to connect with our patients and their family members ― to listen to them, hear their stories and build that therapeutic relationship," says Christina.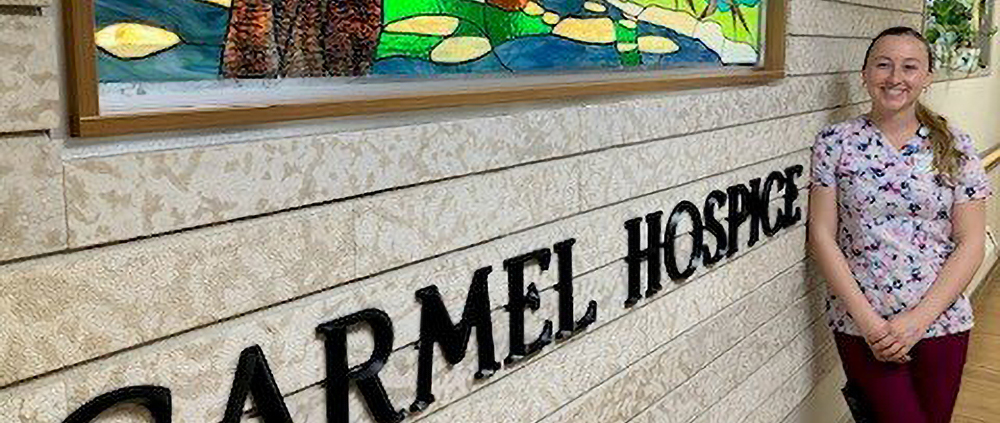 Now specializing in palliative care, Christina has worked in a variety of other areas of nursing, including acute and emergency care. She enjoys walking alongside patients on their journey through palliative care.
"They've often gone through some incredibly hard things to get to where they are in palliative care, and then we come alongside and try to help make the load a little bit lighter for them and their family."
"It's just incredibly rewarding when you can help to support patients and their loved ones through the journey of palliative care."
Christina's passion and dedication for her work haven't gone unnoticed by her peers as they recently nominated her for the Covenant Mission Award for Compassion. Staff at St. Joseph's say that her caring and kind disposition are gifts to patients and their families.
Deeply appreciative of the nomination, Christina acknowledges that providing compassionate care is truly a team effort.
"I wouldn't be nominated for the award if it wasn't for the team that I have because it's never a one-person show. It takes a whole team to provide compassionate care to our patients. I'm definitely humbled by their nomination."
For those considering a career in nursing, Christina offers her advice.
"It's all about taking the time to really find your passion and niche."
"We need people who do well in emergency situations, who thrive under pressure. We also need people who are good with the older population. There's an area of practice for everyone."
But there's one common denominator Christina believes is important for all nurses.
"You need to have a heart for people. You need to be compassionate."
As an organization, Covenant Health prides itself on providing compassionate care to its patients and residents. It's an aspect of her work that Christina is truly grateful for.
"I'm incredibly thankful for my job and for the people that I work with because they are some of the most compassionate healthcare professionals that I've ever had the opportunity to work with."
"I learn from them every day because they advocate for people and provide compassionate care, not for the paycheck but because they want to be there, and they really, truly care."
Are you interested in joining the Covenant Health team?
Covenant Health has diverse teams of employees, physicians, and volunteers that share a deep commitment to serve and share their talents for the greater good.