Meet Lindsay Rypien
Site administrator, St. Joseph's General Hospital
Healthcare workers often arrive at a crossroad in their careers as they decide whether to work in an urban or rural setting.
For Lindsay Rypien, site administrator at St. Joseph's General Hospital, a Covenant Health facility in Vegreville, rural work is the clear choice.
"I tell everybody that if you can, get a job in a rural hospital. You will be exposed to a wide range of aliments, situations and can practice a wide range of skills."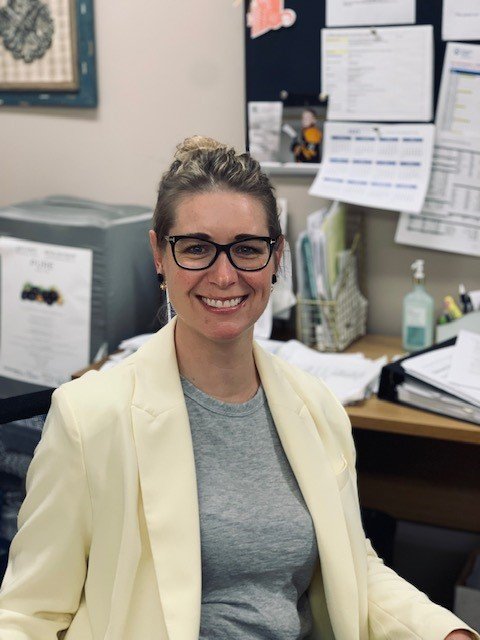 After living and working in rural Alberta for 10 years early in her healthcare career as a registered nurse, Lindsay experienced firsthand what it's like to work on the frontlines in a rural community.
"I'll be honest. I was a little naive when I first started working in rural. I thought it wouldn't be as intense or challenging as urban."
It didn't take long for her to realize the challenges that rural nurses face.
"I learned very quickly that you must do a little bit of everything as a rural nurse. You don't have the same kind of supports. You don't have everyone at your fingertips to call for help. You must be a jack-of-all-trades."
Although challenging, it's precisely that aspect of rural nursing that Lindsay identifies as being incredibly valuable for a nurse's career, something that's much harder to obtain in an urban setting.
"Some of our nurses are covering four different specialties, which requires a broad range of nursing skills, whereas in urban, you're typically specialized in the one department you're working in."
"One of the things I say when I speak to students is that, as a grad, if you put on your resume that you're a rural nurse or that you have experience in that, you will be an asset and great addition to any urban team."
Aside from valuable career experience, Lindsay cites connection with the local community as a huge benefit of rural work.
"I like working in smaller communities because you have that deep connection in the community. The communication is very good, and it's a priority for me to foster and maintain those relationships."
The heightened level of collaboration between tight-knit rural communities and their healthcare sites, like Vegreville and St. Joseph's hospital, help to streamline important work.
"Once you develop those community relationships, we are able to collaborate and gain traction with the projects and we do. There are a lot of exciting pilot projects that go on in rural," says Lindsay.
Although staffing challenges are affecting rural healthcare sites across Canada, Lindsay is proud to work for an organization that gives rural sites the attention they deserve.
"I've noticed that our senior leadership is very open to having conversations with the different facilities. Especially when it comes to rural, sometimes we're not the highest priority compared to urban sites. But with Covenant Health, it's been a big focus to get rural involved in the recruitment and retention process."
Are you interested in joining the Covenant Health team?
Covenant Health has diverse teams of employees, physicians, and volunteers that share a deep commitment to serve and share their talents for the greater good.