Meet Lynn Williams
Lodge support worker, St. Mary's Health Care Centre
Lynn Williams recently celebrated a 25-year milestone of working with residents at St. Mary's Health Care Centre in Trochu. She says her job is not really a job when you enjoy it, and she really enjoys supporting residents at the centre.
"My twin sister was working as a registered nurse at St. Mary's and told me about a job opening, so I applied," says Lynn. "My grandmother had moved into the site, and I wanted to be able to spend more time with her."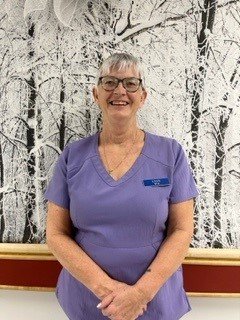 She started out as a personal support aide, and she's now a lodge support worker. 
"I like going to work because it's a good place to go," says Lynn. "We're a family and full of camaraderie. It's usually happy, but we do have our sad moments. One of my favourite memories is from Christmas 1997, when my sister and I were both working. My grandmother was a resident. We got to spend Grandma's last Christmas with her."
Lynn says it makes her day when residents say they're glad to see her or they've missed her. "It's rewarding to know you're making a difference in someone's life. The residents are part of my life. They're my extended family."
Over her 25-year career, Lynn has learned many things.
"I've learned over time to be more patient and understanding and to slow down," says Lynn. "I make time for the residents instead of just rushing around."
Lynn's advice for someone starting a career in continuing care is that you need to love people and accept their faults and handicaps. It's also important to be a good listener because each resident has their own unique story. 
"I'm honoured to be able to work with my seniors," says Lynn. 
Are you interested in joining the Covenant Health team?
Covenant Health has diverse teams of employees, physicians, and volunteers that share a deep commitment to serve and share their talents for the greater good.