Meet Randi Hogg
Recreation therapist, St. Mary's Health Care Centre
In their professional journey, healthcare workers frequently encounter a dilemma: should they choose to practice in a bustling urban centre or a tranquil rural area?
For Randi Hogg, recreation therapist at St. Mary's Health Care Centre, a Covenant Health facility in Trochu, living and working in a rural community is the only choice.
"There's just something about Trochu," says Randi. "The other places I worked at were nice, but Trochu is the best fit for me."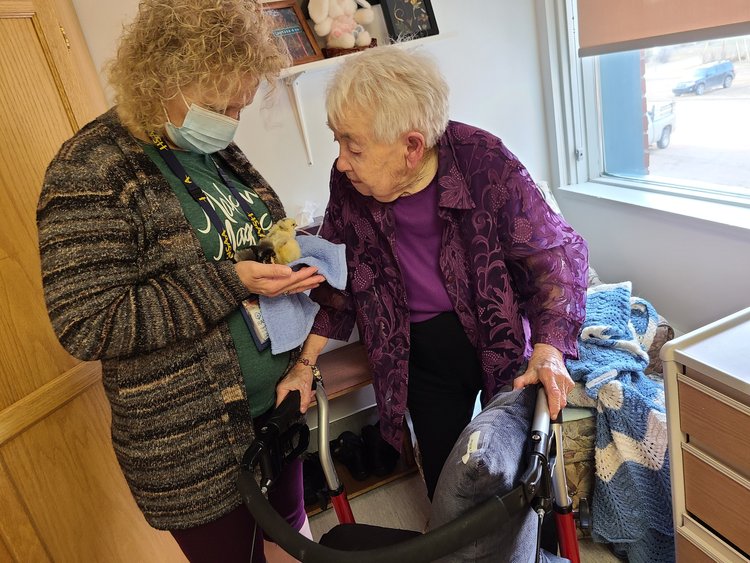 Having previously worked in more urban areas, Randi appreciates the close relationships that come with working in a tight-knit rural community.
"I love that I get to look after my friend's grandmas and grandpas, my neighbours and my community. I've been able to provide care for some of my own family members here. It's those close personal connections that I find meaningful.
"You really get to know your residents a lot more. We know the families inside and out. When I was working in a bigger city, it wasn't the same."
When Randi first started her career in recreation therapy, she didn't think she would find her calling working with older adults.
"I honestly thought I would be working with children, but I realized that I loved working with the elderly population much more."
Having grown up in Trochu, she also never envisioned herself working at the local Covenant Health site.
"Growing up in Trochu, St. Mary's was kind of a scary place to me. I'd see the residents sitting around in their wheelchairs, and I would always zoom right past. But when I started working with them, I realized how sweet they really are."
Randi knows there are big advantages to working in rural health care when it comes to support from the community.
"I can get things from my community here that you can't get in big cities. I know that I can always turn to the community and ask for help to get things like art and gardening supplies."
The same applies to finding entertainment for the residents.
"We rarely have to pay for entertainment. People from the community will come here and donate their time, like singers or musical groups, for example."
Randi emphasizes that there's something intangible about living and working in a rural area, something that she encourages healthcare workers to experience for themselves.
"There's something about a small town that is so much more. I'll always advocate for rural; I think everyone needs to come and experience it."
Are you interested in joining the Covenant Health team?
Covenant Health has diverse teams of employees, physicians, and volunteers that share a deep commitment to serve and share their talents for the greater good.