Training program helps boost health care aides at Killam Health Centre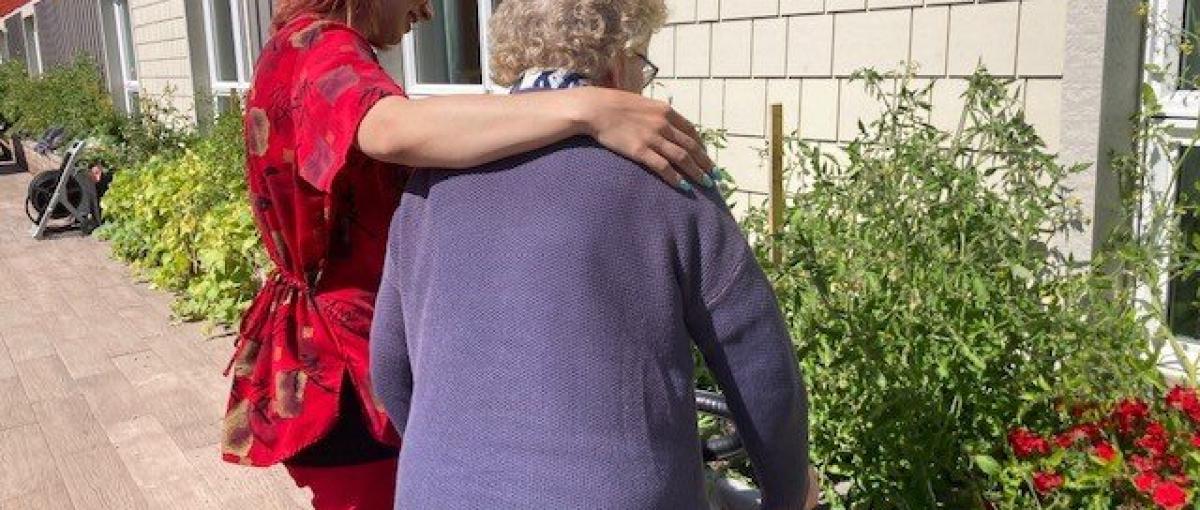 September 7, 2023
By Marguerite Watson, Senior Communications Advisor, Covenant Health
Celeste Ewan had always wanted to work in health care, but finances were a barrier to going to school and getting training. That changed when she learned about an opportunity to work while training to become a health care aide at Killam Health Centre, a Covenant Health facility that provides both acute and continuing care. The program tuition would be covered by a bursary provided by the Killam & District Health Centre Foundation.
"As a kid, I wanted to be a nurse, but finances were always an issue," says Celeste, who'd worked as a supervisor in a steel mill for many years. "When I saw this opportunity to become a health care aide and (learned) they would pay for the schooling, I went for it. It was an opportunity I wouldn't have had otherwise."
The health care aide program combined on-the-job training as part of the centre's staff with online learning provided by Norquest College in Edmonton. It was initiated at the centre to address a high vacancy rate of health care aides in the continuing care unit, where health care aides are the main caregivers for residents.
Interest in the program was high, says Lora Maygard, site administrator at Killam Health Care Centre. The centre advertised for 12 spots in total, and all the spots were soon taken and the vacant health care aide positions filled. 
"We gave them a position on day one, and they were working and being valuable employees at the same time as learning and earning their certificate."
Some of the students were community members like Celeste, and others were staff looking to grow into a new role. 
Tiffany Strayer entered the training program from her position working in the kitchen at the health care centre. A former emergency medical responder, she missed providing personal care to people. "I had wanted to become a health care aide, and this program just really fit into my lifestyle," she says. "I couldn't have taken a year off from work to go to school, and I wouldn't have been able to afford it financially."
The students were enrolled in the program over 12 to 18 months. Every month, they received a new learning module from Norquest, with exercises and exams to complete. For their hands-on training, they had an on-site tutor, who also provided support for the online exercises and exams. The site also conducted skills assessments to ensure the students had the physical skills to provide care.
All 12 students now have their certificates and are permanent employees at the site.
"The program has been extremely successful," says Lora. "The students were able to build relationships with the residents early on as they were learning, and the residents speak positively about the care they are receiving."
Both Celeste and Tiffany say the program is a great way to start a career as a health care aide.
"I really appreciated being able to work while going to school because I found that I had already learned a lot of things by doing the hands-on training," says Tiffany.
Following on the success of the first intake of student-employees, Lora and her team are now advertising for a second intake to maintain current staffing levels and fill casual positions. The program is also being piloted at St. Therese Villa, a Covenant Health facility in Lethbridge.
Celeste and Tiffany are happy with their career change, and they both recommend the program to others wishing to have a career in health care.
For Celeste, the program helped her find where she "truly belongs. I get to do exactly what I wanted to do when I was a kid," she says.
It's the one-on-one time she has with the residents or patients that Celeste enjoys. "Your focus is on that more intimate experience. That is what I like. That is making a difference."
Tiffany agrees. "As a health care aide, you get the personal experience — I love it.
"I would definitely recommend this program. It's a wonderful opportunity to make a big career change. I find it more fulfilling working as a health care aide."