Spiritual care in a pandemic
Chaplains support patients, residents and staff during COVID-19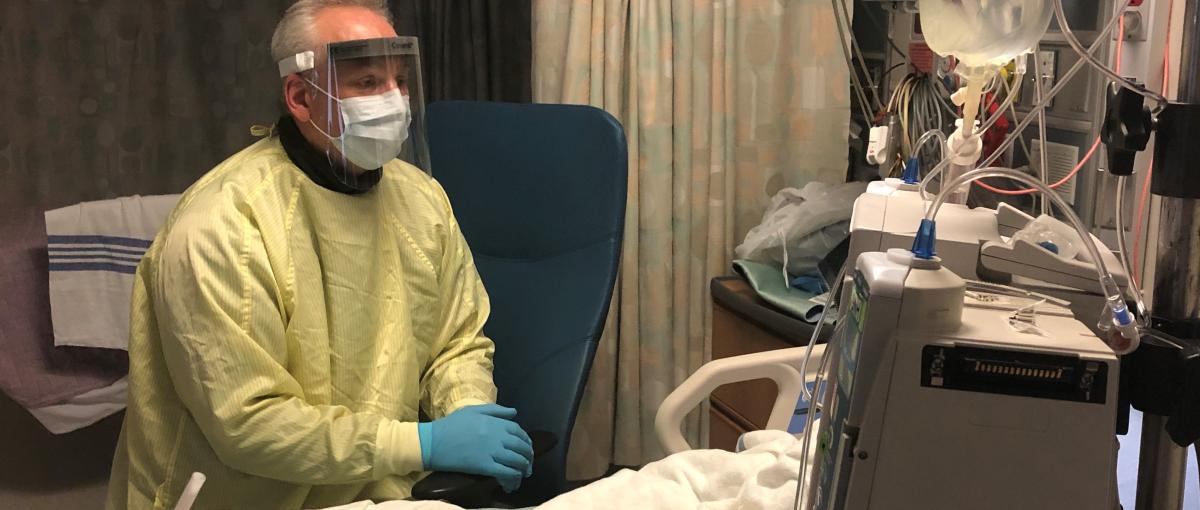 May 14, 2020
By Brenton Driedger, Social Media and Storytelling Advisor, Covenant Health
Much of Nicholas Wasylowich's job remains the same, but COVID-19 has brought changes to the rural, long-term care centres where he works.
Nicholas still splits his time as a chaplain between Our Lady of the Rosary Hospital in Castor and St. Mary's Health Care Centre in Trochu. He interacts with the same residents, and the staff remain consistent.
But some things are noticeably absent. Staff smiles are hidden by masks, in-person visits with loved ones are replaced with video calls or take place at a distance, volunteers are unable to be there, the nearby school is quiet and residents are spread out or keep to their rooms.
"It takes a bit of planning now to engage the residents," says Nicholas. "You have to look for people a little bit more, as opposed to just seeing them."
Nicholas is used to bumping into residents, often in small groups, and chatting. Now the halls and common areas are much quieter, making those conversations even more important.
"It provides a sense of connection to the world around them as we just simply talk about the fact that the combines are finally finishing up and that the seeding is getting done. They want to know all these things."
Nicholas says residents and families understand the need for preventative measures, even without a confirmed case of COVID in either rural community. But residents long for more connection.
"They're doing remarkably well, but I'm noticing an increase in fatigue," says Nicholas. "Knowing things have changed, understanding things have changed and just getting tired with the changes. Generally, they understand what's going on, but they're still disappointed."
Recreation staff are using iPads to facilitate virtual visits. Nicholas says residents are adapting to them and enjoying the visits. After a video call with her grandchildren, one woman commented that "it was just like they were here." But Nicholas knows iPads can't totally replace in-person connection.
"They're not the same. That's why those purposeful moments of conversation are vitally important here."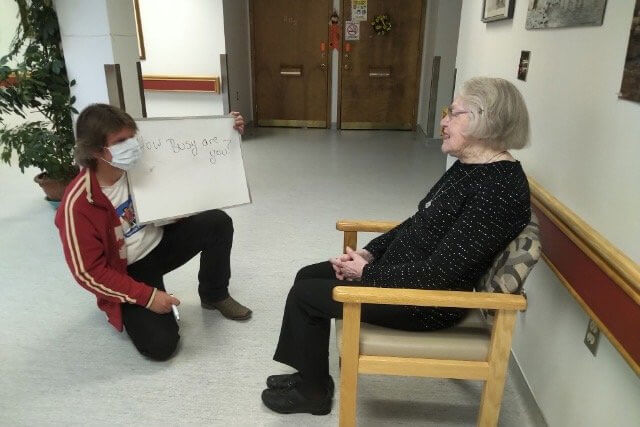 In Edmonton, chaplain Brian Greenwood notices a heightened sense of vulnerability in patients and staff at Grey Nuns Community Hospital. It greets him as soon as he walks through the hospital's main doors.
"I have especially sensed it in my own anxiety, in coming through a checkpoint to come into a hospital, to put on PPE (personal protective equipment) to work with staff and patients, to speak through a mask and a shield, where voices are muffled and vision is garbled. To work around that and to still connect on a spiritual level with another person, whether it be staff or a patient."
For Brian, the pandemic has been a reminder of the importance of slowing down in his interactions with patients and staff and of being a good listener. He recently visited with a patient who was struggling with the need for an amputation. Brian let her know he was there for her. When she was ready, she shared multiple stories of how she had adapted to losses earlier in life.
"I sat at her bedside and simply listened as she expressed her spiritual distress of disempowerment, feeling like she was never going to get back to where she was, having to deal with the loss," says Brian. "And as she talked it out and wrestled with it, she came to accept it on a different level. By the time our visit ended, I asked her if there was anything I could do for her as a chaplain, and she said, 'No, you've done it.'"
In an urban acute hospital setting, chaplains often don't have a long time to develop a relationship with patients. So Brian finds ways to give patients an opportunity to share their story at whatever level they're comfortable with. He begins each visit with a simple but thought-provoking question: "How's your courage?"
"Not everyone has a religion, but everyone has a spirit. And that spirit craves expression," says Brian. "You have to find a way to get to the story, where the patient feels safe. And let the patient do it. Create an environment where they sense that you're able to go there, but you're not going to force them there."
Nicholas has regular conversations with staff about the stress they're feeling. Staff feel the burden of telling residents their loved ones won't be visiting, and even though there have been no confirmed cases, they worry about the virus.
"Nobody wants to be 'the one,' so to speak. In a rural context, it gets amplified because it can be just one person, and we'll all know who that person is. So that is a stressful reality of rural life. Everybody knows each other, in a good way. It's not that anybody would be mad at each other. But for the individuals, including myself, wanting to be overly cautious, it creates even more stress."
Nicholas says staff, residents and families feel afraid of losing some of their close-knit community culture because of the physical distancing rules and visiting restrictions, which have relaxed to allow for outdoor visits with one or two loved ones. That's a meaningful change, but with visitors wearing masks and maintaining physical distancing, it's a long way from normal.
"It does help, for sure. It is a good thing. Now that they can see each other without a window, that barrier is gone, and that's a joyful reality," says Nicholas. "But it's still not the same."