St. Therese Villa
253 Southgate Blvd South Lethbridge T1K 2S1
St. Therese Villa is a friendly, caring designated supportive living community. We provide services tailored to your needs. We are one of the few sites where you can live as a couple, even if you need different levels of care.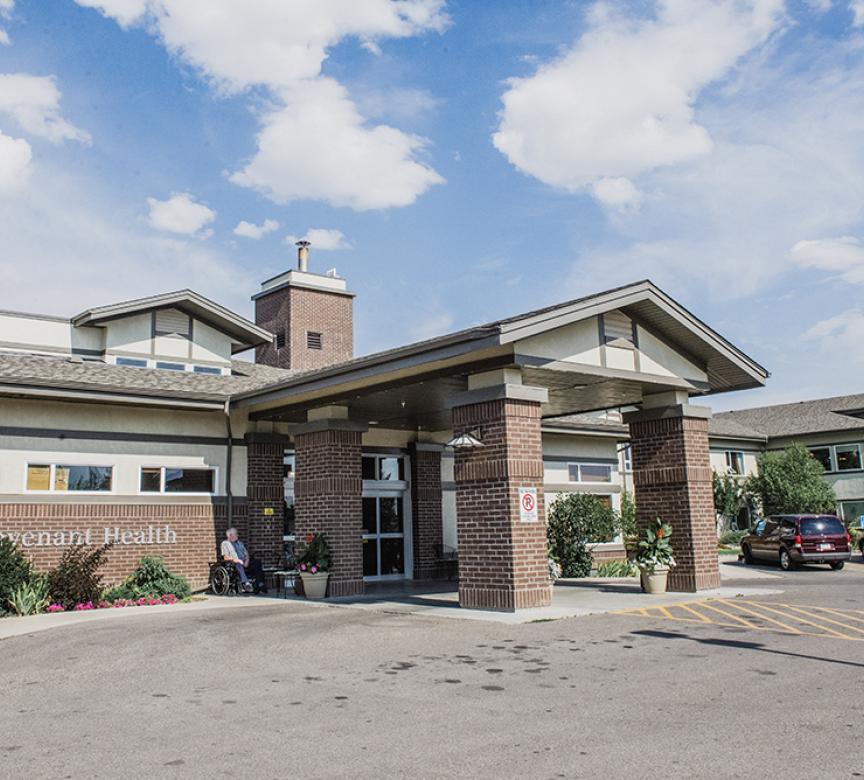 Interpretive services

We offer interpretive services for residents and families who prefer to communicate in a language other than English. You may request services in person, through live video or over the phone.

To arrange for an interpreter, speak to a member of your care team.
Recreation therapy

We offer recreation and leisure services to enhance the health and well-being of our residents. We support choice and help you follow your interests.

Contact

Phone: 403.332.5300
Spiritual care

Our team offers spiritual care services to our residents and families, regardless of faith, background or tradition. We honour each person's wishes and unique journey.

Chaplain services

Our chaplain is on-site to respond to a wide range of needs. They may:

support you with end-of-life concerns, including ceremonies, memorial planning and decision-making
help you explore meaning and purpose in life
support you during grief and loss
explore ethical concerns facing residents and staff
provide religious care (prayer, requests for sacraments or visits from faith leaders)
help you explore your understanding of God or the Divine
arrange a quiet space for you in the chapel

Hours

Two days per week and on-call

Contact

Ask a member of your care team to connect you with our chaplain.

Phone: 403.332.5300
Supportive living level 4

Our centre includes 140 private suites, including 16 couple's suites, for supportive living (SL4). Each suite has its own bathroom.

Admission

You will need to apply for supportive living (SL4) through a home care case manager. Contact 811 or email continuingcare@ahs.ca.

Contact

Phone: 403.332.5300
Supportive living for dementia

Our centre includes 60 secure suites for people living with dementia who need support with health and personal care. Each room has its own bathroom.

Access

You will need to apply for supportive living for dementia (SL4D) through a home care case manager. Contact 811 or email continuingcare@ahs.ca.

Contact

Phone: 403.332.5300
Amenities for residents
Meals
Each of our supportive living units has its own dining room that can seat up to 39 residents. Each of our supportive living for dementia units seats 12 residents.
We serve meals three times a day and you can choose between two options at lunch and dinner. There is also a roving snack cart.
Cafeteria and pub
We have a cafeteria with vending machines and a pub that is open to residents, families and staff. 
Pub hours
11:30 a.m. - 1:30 p.m.
Laundry
Laundry rooms are available on each unit.
Chapel
The chapel is open 24/7 for quiet reflection and prayer. We host services two days a week based on resident preferences. Faith communities are also welcome to book the chapel for services. Contact the facility recreation department to make a booking.
Hair salon
We have a salon on site. Contact our administration office for more information.
Library
Our library is open daily.
Recreation
For your enjoyment, we offer:
lounge areas with a television on every unit (where recreation activities take place)
a large atrium where we host recreational activities and live entertainment
two recreation rooms where you can participate in activities such as cooking, baking and meal clubs
outings for shopping and country drives using our Covenant Health bus
Outdoor space
We have two beautiful courtyards, a large gazebo and a playground right in front of the building where you can spend time with your family and friends.
Specialists
A podiatrist comes to the site monthly to provide nail care for a fee.
You or your family can arrange for dental care to come to the site.
Pet visits
Pets cannot live on site, but families and visitors can register a pet and bring the pet for visits. We also have people from the community who visit regularly with support and therapy animals.
Resident and Family Council
Our Resident and Family Council gives you and your family members a chance to ask questions and tell us what is working or not working on your unit. It is open to every resident on every unit. Each unit hosts a council meeting every six weeks.
Our Resident Dining Committee works with food services staff to create menus for meals.
Latest news
St. Therese Villa was recently voted by residents as one of the top three seniors living complex in the annual Best of the Best competition.
Volunteers sew activity aprons to provide purpose and comfort for residents with dementia at St. Therese Villa in Lethbridge.
Lethbridge students in need benefit from school lunches prepared by residents and patients at St. Therese Villa, St. Michael's Health Centre and Martha's House.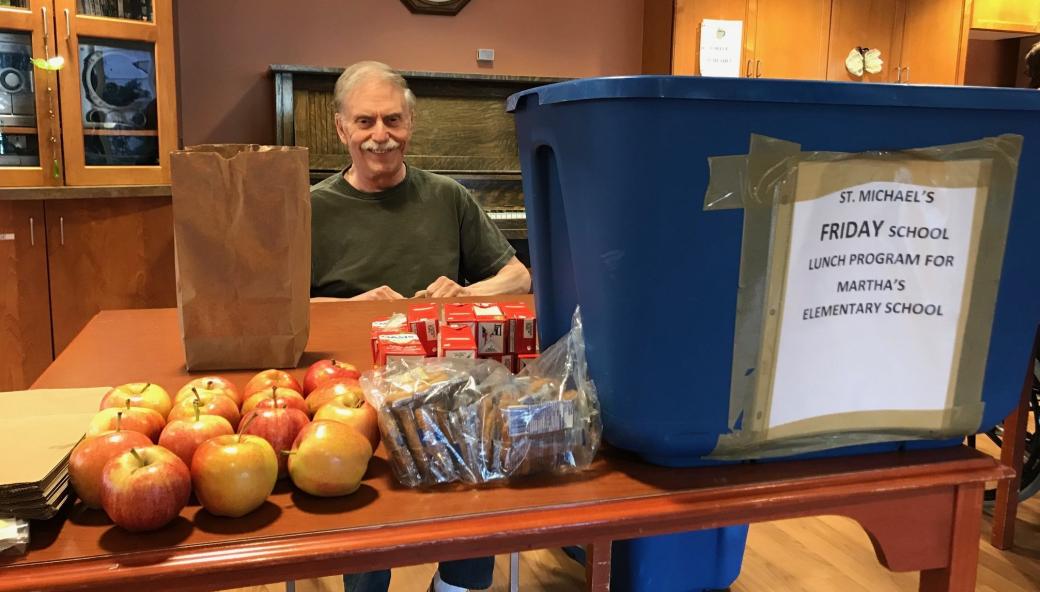 Suites
Each private room contains:
a bathroom including a barrier-free shower
a large window that opens partially 
a closet
a kitchen sink, countertop and space for a fridge (except for in dementia care suites)
a nurse call system
Capacity for a double bed
Neighbourhood
We are located on the south side of Lethbridge in a well-established neighbourhood. There are several big box stores and other amenities close by.
Stop the spread of germs
For the safety of our patients and residents, we encourage you to clean your hands when you visit. See A Guide to Clean Hands for information on protecting yourself and your loved ones.
If you're sick, wait and visit your loved one when you're feeling better. If you must visit and you're coughing or sneezing, consider wearing a mask to protect your loved one.
Cover your nose and mouth with a tissue when you cough or sneeze, and then discard the tissue. If you don't have a tissue, sneeze or cough into your upper sleeve or elbow.
Clean your hands often with soap and water or hand sanitizer, especially after coughing or sneezing.
Parking
We have limited free visitor parking, including accessible stalls, in the parking lot in front of the building or on the street. Please don't park in the marked fire access areas.